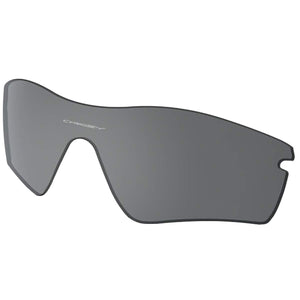 Oakley Radar Path Sunglasses Replacement Lens
One of the many beauties of the Oakley Radar is the ease with which you can swap out its lenses. Oakley makes the perfect lens for any light condition, so by owning a few sets of lenses you'll be ready for any circumstance. Removing an Oakley Radar lens is a piece of cake: With two fingers carefully pinch the nose bridge tabs inward. Then push the nose bridge towards the top of the sunglasses until the lens releases from the top. You can then pull the lens down and out.Installing the lens is even easier: Just insert the tab on the right side so it's fully seated. Arc the lens outward slightly to insert the left lens tab. Then pull the top of the frame over the top of the lens while pushing the lens inward with both thumbs. When the frame is completely over the top of the lens, push the nose bridge forward so it snaps into place. Simple as can be. One additional note: No matter what size Radar lens you current own (Path, Pitch, or Range), you can swap your current lens out for any other size. We only offer the Path size lens because we believe it is large enough to protect the eyes while being small enough so it doesn't overheat the head and seal the eyes off from the world. And overly big glasses fog up too easily. For those who are familiar with M-Frame lenses, this is kind of between the Hybrid and the Sweep. The Clear lens is an ideal choice for night riding, or a race in a downpour, or riding in otherwise dim-and-dismal conditions and you're not so much worried about blocking light as you are protecting your beloved eyeballs. If you've spent only 5 minutes of your life on a group ride, one truth has already been made clear to you: Debris flying around at head level is a fact of life when you ride with others. Neglecting to wear glasses makes about as much sense as leaving your helmet in the car.The Black Iridium lens is a superb choice for the spring and summertime.
If you own the most technologically advanced piece of sports equipment on earth, be sure you get the most out of it. Oakley Radar® is engineered with an interchangeable lens design to let you adapt to any sport environment. All lenses feature Hydrophobic™, a permanent smudge-resistant coating that repels water, oils and dust. Durable Plutonite® lens material offers superior impact protection and filters out 100% of all UV rays. High Definition Optics® (HDO®) maximizes clarity with patented innovations like Polaric Ellipsoid™ geometry for precise, crystal clear vision at every angle of view.
Composite frame
Plastic lens
Non-Polarized
100% UV protection coating
Lens width: 67 millimeters
Lens height: 45 millimeters
Bridge: 20 millimeters