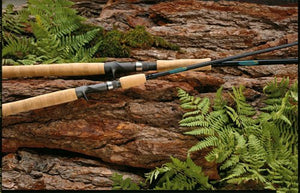 St Croix Premier Glass Musky Rod, PGM80HM
Time marches on. So do musky. Getting bigger every day. All the while taunting you. Saying whatever is the musky equivalent of, "na na na na na naa." Only, now you come armed with a Premier casting rod. Theyâ€re built from premium SCII graphite with ultra-hard SiC tip tops making these a fine choice for the most rabid musky hunters. Bass anglers have a shared respect for our Premier casting rods – with actions tuned to the demands of bass casting techniques. Either way, both our musky and bass models are light, fast and super strong, not to mention more handsome than ever before with that gloss black pearl blank. At least youâ€ll think theyâ€re handsome. The fish donâ€t seem as fond of them.
Premium-quality SCII graphite.
Outstanding strength, sensitivity and hook-setting power.
Finely tuned actions and tapers for superior performance.